The Wolves look to sweep the Charlotte Checkers in Chicago's home-opening weekend series following a 2-1 victory on Saturday night at Allstate Arena.
Sunday, Oct. 12, 4 p.m.
Allstate Arena
Team Record:
0-2-0-0
Last Game:
1-2 L vs. Chicago (Oct. 11)
Season Series
: 0-1-0-0
Last Meeting:
1-2 Road Loss (Oct. 11)
Team Record:
1-0-0-0
Last Game:
2-1 W vs. Charlotte (Oct. 11)
Season Series
: 1-0-0-0
Last Meeting:
2-1 Home Win (Oct. 11)
---
Storylines
Today marks the second meeting this year between Chicago and Charlotte and the 18th all-time regular-season meeting between the clubs; the teams will meet four times during the 2014-15 season, including this opening-weekend doubleheader.
The Wolves hold a 11-5-1-0 edge in the all-time series, thanks in part to an active four-game winning streak that began on Nov. 7, 2013, at Charlotte. Each of Chicago's four victories have been by a one-goal margin — and three of those four have been 2-1 wins in regulation.
A familiar face could be in net for Charlotte as Drew MacIntyre, former Wolves goaltender and last season's netminder for Toronto when the Marlies swept Chicago in the Western Conference Semifinal, signed a one-year, two-way deal with the Carolina Hurricanes this offseason and was assigned to Charlotte on Oct. 3; the netminder manned the crease in Chicago from 2009-11, posting a 32-22-3 record, 2.66 goals-against average, and .913 save percentage in 61 games.
Forward JEREMY WELSH was originally signed by Carolina as a free agent in 2012 and spent one season with Charlotte (2012-13); the 26-year-old contributed 26 points (14G, 12A) in 69 games and three assists in five Calder Cup playoff games for the Checkers, all professional career-highs.
---
By The Numbers
300 – Wolves head coach JOHN ANDERSON collected his 300th regular-season win at Allstate Arena when the Wolves emerged victorious Saturday night. ANDERSON owns 552 regular-season wins with the Wolves and 109 playoff victories.
15 – Number of seasons since the last time 37-year-old defenseman BRENT SOPEL appeared in an American Hockey League game prior to Saturday's victory at Allstate Arena. SOPEL, who has 659 regular-season National Hockey League games and one Stanley Cup championship on his resume, played 50 games for Syracuse in 1999-2000 while he was getting his NHL career underway.
15 – It took just one period for the Wolves to beat last year's Fewest Shots On Goal Allowed in a Period (1). Last season, they allowed a season-low 3 shots six times.
---
Follow The Action
Today's game begins at 4 p.m. and can be seen on The U-Too (WCIU-DT 26.2). U-Too also can be found on XFinity's Chs. 230 (HD) and 360 (SD), RCN's Ch. 35 and WOW's Ch. 170. The game can also be streamed on www.ahllive.com.
Those away from a TV or computer can follow @Chicago_Wolves or @ChiWolvesLive on Twitter for live in-game play-by-play.
---
Player Spotlight
#22 Dmitri Jaskin
Left Wing
While Jaskin did not break the stat sheet in the season opener versus Charlotte, it's no secret that the 21-year-old is a point-scoring phenom. After being a late addition to John Anderson's squad during the final days of the St. Louis Blues' camp, the expectations for Jaskin with the Wolves in year two become even greater. In 2013-14, he tallied 14 goals and 15 assists in 42 games with the Wolves while splitting time between Chicago and St. Louis (NHL).
The Checkers got off lucky keeping Jaskin off the scoresheet in game one, being that the Wolves were 13-1 last season when he scored a goal and 17-4 when he simply tallied a point.
If Charlotte has any intention of avoiding the weekend sweep, they'll need to keep Jaskin from helping the Wolves put the puck in the net.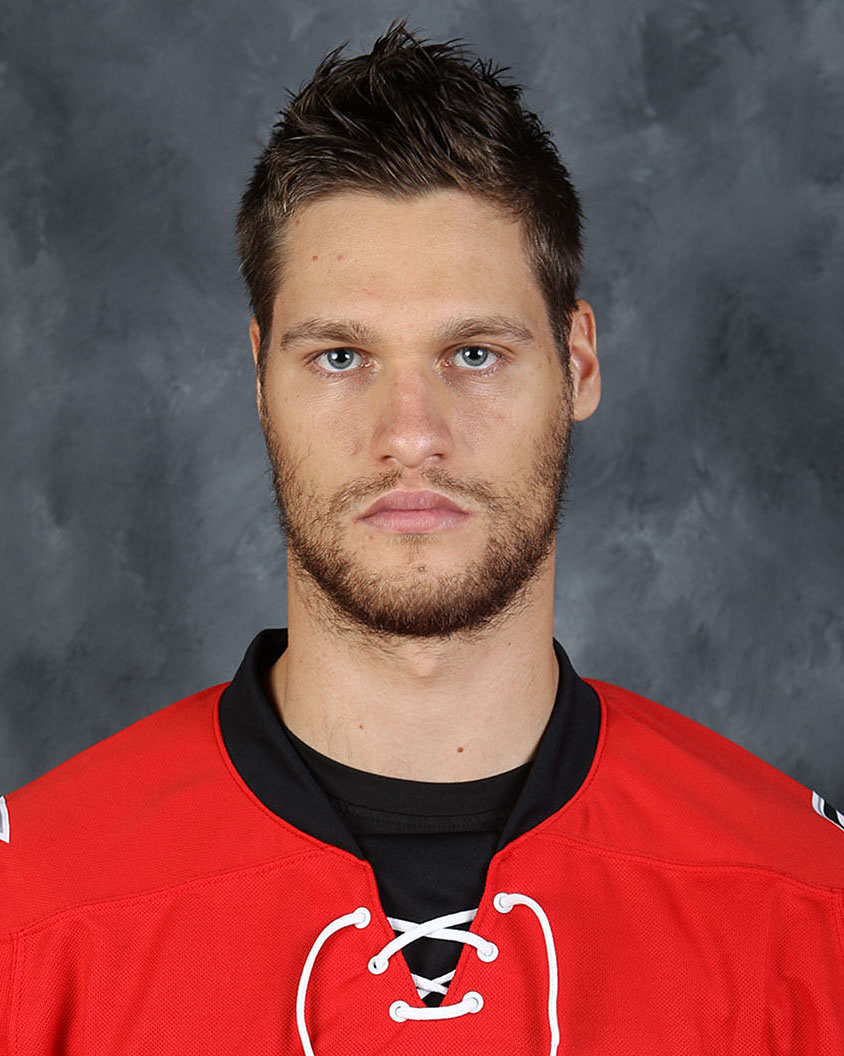 #29 Michal Jordan
Defenseman
The Checkers captain will look to rally his troops for the final game of a long, three-game opening weekend on the road. Jordan has yet to crack the stat sheet as the highest-scoring returning defenseman for Charlotte.
Jordan and his fellow blue-liner Rasmus Rissanen have both failed to help out in the Checker's scoring. While their top line did a good job keeping the Wolves' leading scorer from last year, Ty Rattie, from recording a point, they'll have their hands full doing so for a second-straight night.
Jordan and Rissanen will need to help produce pressure in the offensive zone after being held to just 15 shots on goal last night — tied for the lowest allowed by the Wolves in franchise history.