The Chicago Wolves host the Lake Erie Monsters tonight and look to continue their run of success against a team they have claimed 19 games from in their 24 all-time meetings. In 12 tilts between the clubs at Allstate Arena, Chicago has prevailed in 11 of them while outscoring Lake Erie 55-32 in the process.
Friday, Oct. 17, 7 p.m.
Allstate Arena
Team Record:
1-1-0-0
Last Game:
2-3 L vs. Grand Rapids (Oct. 11)
Season Series
: 0-0-0-0
Last Meeting:
4-5 Road SO Loss (March 29)
Team Record:
1-0-1-0
Last Game:
1-2 L vs. Charlotte (Oct. 12)
Season Series
: 0-0-0-0
Last Meeting:
5-4 Home SO Win (March 29)
---
Storylines
Tonight marks the first meeting this year between Chicago and Lake Erie and the 25th all-time regular-season meeting between the clubs; the teams will meet eight times during the 2014-15 season, Lake Erie's first as a member of the Midwest Division following this summer's realignment.
Chicago holds a 19-4-1-0 edge in the all-time series and claimed seven of a possible eight points against the Monsters last season (3-0-1-0); all four contests in 2013-14 were high-scoring, averaging 8.25 combined goals per game, and three required extra time (one to overtime and two to the shootout).
The Wolves have only dropped one game to Lake Erie at Allstate Arena — a 5-3 decision on Jan. 14, 2012 — since the teams first faced off in 2007-08; overall the Wolves hold an 11-1-0-0 record against the Monsters in the comfort of their own arena.

Forward ROB BORDSON made his professional debut against Lake Erie, suiting up for Syracuse on Oct. 8, 2010, and firing one shot on goal.
---
By The Numbers
175 – Price of a mammogram for those who cannot afford one and the donation amount the pink sticks players use in warmups Saturday will be available for, each of which will be matched by Heidenhain; proceeds from the Pink Sticks Fundraiser and other Stick It to Breast Cancer apparel, presented by Northwest Community Healthcare, benefit A Silver Lining Foundation and Chicago Wolves Charities.
1 – Number of shots surrendered by the Wolves in the opening period of their season Saturday against the Checkers, a feat they had not accomplished since the third period Jan. 10, 2009, against Peoria.
12 – Years since Wolves defenseman BRENT SOPEL had dropped the gloves in North America before his bout in the third period Sunday with Charlotte forward Kyle Hagel; the last time the veteran had fought prior to this season was Oct. 19, 2002, when he sparred with Los Angeles' Ian Laperriere while with Vancouver.
---
Follow The Action
Tonight's game begins at 7 p.m. and can be seen on The U-Too (WCIU-DT 26.2). U-Too also can be found on XFinity's Chs. 230 (HD) and 360 (SD), RCN's Ch. 35 and WOW's Ch. 170. The game can also be streamed on www.ahllive.com.
Those away from a TV or computer can follow @Chicago_Wolves or @ChiWolvesLive on Twitter for live in-game play-by-play.
---
Player Spotlight
#8 Ty Rattie
Right Wing
It's easy to look at the stat sheet and assume the Chicago Wolves leading scorer from last season didn't have a great opening weekend because he hasn't found the back of the net. Despite not netting a goal, Rattie tallied his first point with an assist on Petteri Lindbohm's goal in game two's loss to Charlotte. The right wing also totaled the team's third most shots on goal (6) for the weekend.
Lake Erie goaltender Calvin Pickard posted a shutout in their season opener, but has been peppered with shots, resulting in a game two loss. The Monsters have been outshot 62-44 in their two games against Grand Rapids, and that's where Rattie and the Wolves have succeeded thus far.
If Rattie can continue to put shots on net, he should have no problem putting the biscuit in the basket this weekend for his first goal(s) of the season.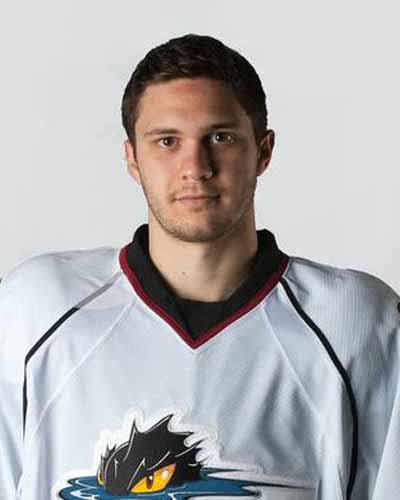 #18 Andrew Agozzino
Left Wing
As one of the last cuts by their NHL-affiliate Colorado, Andrew Agozzino returns to the Monsters after leading or co-leading the team in points over the previous two seasons. After averaging just over 50 points per season in his first two tenures in the AHL, Agozzino is on a mission to make yet another statement on why he should be with the Avalanche.
With Lake Erie's starting goaltender getting called up to the big show yesterday, Agozzino and company will look to get their backup comfortable with an early lead. The left wing may not lead the team currently in points (2) or goals (0), but is going to eventually put the puck in the net and the Wolves defensemen look to have their hands full keeping him scoreless on the season.
In four games against Chicago last season, Agozzino averaged a point per game, tallying a goal and three assists.