Two of the league's top teams last year each look to snap early-season skids as they face off tonight at Van Andel Arena.
Friday, Oct. 31, 6 p.m.
Van Andel Arena
Team Record:
3-3-0-0
Last Game:
1-2 L vs. Rockford (Oct. 29)
Season Series
: 0-0-0-0
Last Meeting:
2-6 Road Loss (March 23)
Team Record:
3-1-2-0
Last Game:
3-4 L vs. Rockford (Oct. 25)
Season Series
: 0-0-0-0
Last Meeting:
6-2 Home Win (March 23)
---
Storylines
Two of the league's top teams last year each look to snap early-season skids as they face off tonight — their first matchup in teh 2014-15 slate — at Van Andel Arena; neither squad has collected a win since Oct. 18, when the Wolves defeated Lake Erie 7-2 and the Griffins topped Charlotte 4-1.
After starting the season 3-0-1-0 and undefeated in regulation, Chicago hit a rough patch with a 0-1-1-0 mark last weekend against division rivals Milwaukee adn Rockford; meanwhile, after responding to a season-opening shutout (0-4 vs. Lake Erie) with a three-game winning streak, Grand Rapids has dropped its last two games in regulation against Lake Erie and Rockford.

The Wolves pulled off an unlikely feat in 2013-14 when they dethroned the Griffins to capture the Midwest Division title by one point on the last day of the season; Grand Rapids had previously held the top spot for 167 consecutive days.

Tonight marks the first of eight meeting this year between Chicago and Grand Rapids and 115th all-time regular-season matchup between the clubs.
---
By The Numbers
12 – Games since the Wolves suffered consecutive losses prior to last weekend, dating back to the 2013-14 season; Chicago's losses Oct. 24-25 versus Milwaukee and at Rockford were the first back-to-back since they dropped two in a row March 30 to April 1, also at Rockford and versus Milwaukee.
0 – Games this season in which the Wolves have been outshot; Chicago is averaging 31.67 shots on goal per game (190 total) while allowing their opponents 20.17 (121 total), the lowest average in the league and 3.00 fewer than the second-place Griffins.
2 – Goals allowed by the Wolves in the first period of Saturday's game at Rockford, the first time this season that the team has allowed more than one goal in a period; Chicago also allowed 29 shots on net, the most yet in 2014-15.
---
Follow The Action
Tonight's game begins at 6 p.m. and can be seen on The U-Too (channel 26.2). U-Too also can be found on XFinity's Chs. 230 (HD) and 360 (SD), RCN's Ch. 35 and WOW's Ch. 170. The game can also be streamed on www.ahllive.com.
Those away from a TV or computer can follow @Chicago_Wolves or @ChiWolvesLive on Twitter for live in-game play-by-play.
---
Player Spotlight
#27 Rob Bordson
Forward
In 75 and 76 games over the last two seasons, respectively, Rob Bordson has recorded 25 points in each of them. In just six games this season, the fifth-year professional is on pace to nearly triple that American Hockey League-career high.
Bordson is on a four-game point streak with two goals and two assists over that span. His five points are tied for the team-lead and is pulling his linemate Jeremy Welsh up the scoresheet as well. Welsh hasn't put up more than 26 points in his only two seasons yet already has four points. It's no doubt that head coach John Anderson is more than pleased with his third line's play thus far.
At three points last year, Bordson went on a three-game point streak, but never once hit the four-game mark. We'll see if Bordson can continue to be in the right place at the right time for the Wolves.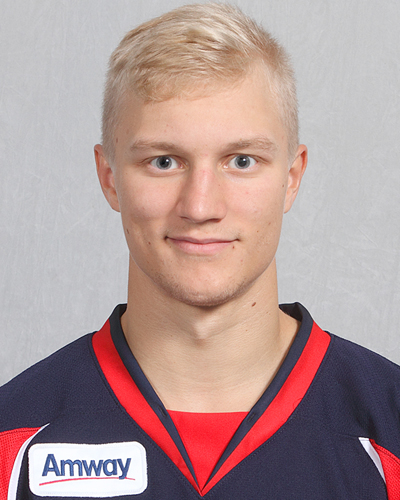 #6 Teemu Pulkkinen
Right Wing
The Chicago Wolves had success in keeping Rockford's Teuvo Teravainen off the scoresheet this past weekend, and will have their hands full doing the same with Pulkkinen — Grand Rapids' leading scorer.
After being held scoreless in the Griffins first game of the season, the 22-year-old forward has tallied four goals and two assists in the last five games. In 10 matchups last season, Pulkkinen recorded three goals and five assists while being held pointless in three of those games.
Two Wolves are very familiar with Pulkkinen, as Petteri Lindbohm and Jani Hakanpaa all played together on the 2011-12 Finland U20 International junior team.