The Chicago Wolves' lone win on enemy ice this season came in their latest tilt against Grand Rapids, a come-from-behind 6-5 overtime win at Van Andel Arena on Halloween.
Wednesday, Nov. 5, 10 a.m.
Van Andel Arena
Team Record:
3-3-1-0
Last Game:
5-6 L vs. Chicago (Oct. 31)
Season Series
: 0-0-1-0
Last Meeting:
5-6 Home Loss (Oct. 31)
Team Record:
5-2-2-0
Last Game:
1-4 L vs. Milwaukee (Nov. 2)
Season Series
: 1-0-0-0
Last Meeting:
6-5 Road Win (Oct. 31)
---
Storylines
The road has not been the kindest place for the Chicago Wolves this season, serving the team both its regulation losses and a 1-2-0-0 overall record away from Allstate Arena; the team's lone win on enemy ice came in their latest tilt against Grand Rapids, a come-from-behind 6-5 overtime win at Van Andel Arena on Halloween.

Last week the Wolves embarked on their annual circus road trip, consisting of a franchise-record-tying nine games this season, and dropped their first contest 4-1 in Milwaukee on Sunday; last season Chicago turned around an inconsistent 3-5-0-1 start with a 5-1-0-0 mark on the circus trip.

Today's game marks the Wolves' first School-Day Game of the 2014-15 season and 13th morning matchup since the tradition began in 2009-10; Chicago is 10-2-0-0 all-time in School-Day Games, including a 3-1-0-0 mark on the road, outscoring their opponents 39-20 in that stretch.

The Wolves currently hold a three-game winning streak in morning games but carry a one-game losing streak on the road following a 2-0 loss to Peoria on Jan. 23, 2013; that Rivermen squad included three current Wolves (PHILIP McRAE, BRENT REGNER, DAVID SHIELDS) and eight more from last season's roster.
---
By The Numbers
8 – Games the Wolves went this season allowing less than 30 shots, a streak that was broken on Sunday and ties a franchise record; the previous two times the team achieved that feat were from Nov. 23 to Dec. 13, 2013, and Feb. 18 to March 14, 1998.
0 – Winning streaks of more than two games that the Wolves have posted this season; the team has twice achieved two-game winning streaks but has not been able to get that elusive third consecutive win.
.719 – The Wolves' circus trip points percentage in the last three seasons, since 2011-12, thanks to an 11-4-1-0 record; the 2013-14 Wolves posted a 5-1-0-0 mark.
---
Follow The Action
Today's game begins at 10 a.m. and can only be seen by live stream on www.ahllive.com.
Those away from a TV or computer can follow @Chicago_Wolves or @ChiWolvesLive on Twitter for live in-game play-by-play.
---
Player Spotlight
#38 Sebastian Wannstrom
Right Wing
Several Chicago Wolves players have had personal bests to start the season, but none more than the line of Sebastian Wannstrom, Rob Bordson, and Jeremy Welsh. All three are sitting atop the Wolves point leaders, and that's with Wannstrom only playing in seven of Chicago's nine games.
Wannstrom totaled just 10 points in 37 games for the Wolves last season. In just seven games this year, he has seven points to lead the team with an average of a point per game. The forward collected four points (3G, A) in three games last week as he posted back-to-back multiple-point games for the first time in his AHL career Friday at Grand Rapids and Saturday against Milwaukee.
If Wannstrom can have the same game as he had last week against the Griffins, the Wolves shouldn't have a problem moving to 1-1 to start the circus road trip.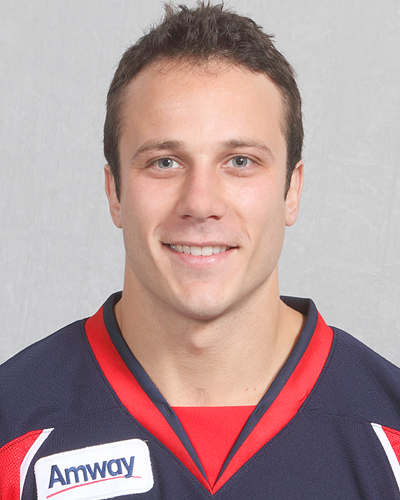 #21 Andy Miele
Center
In the first matchup between the Griffins and Wolves this season, Andy Miele came to play, scoring twice in just over five minutes. His only two shots on goal all game both found the back of the net, and both were buried in impressive fashion.
Despite giving the Griffins an early 2-0 lead, Miele could not get them the win as Chicago rallied after going down 3-0 and won 6-5 in overtime at the Van Andel Arena. Miele has only played in four of the Griffins' seven games and has contributed in all but one, totaling three goals and two assists.
Miele, having played for the Portand Pirates in the Atlantic Division for the previous three seasons, wasn't a familiar face for the Wolves, thus being a reason he played so well out of the gate in game one. Coach John Anderson and the team made adjustments to him and kept him from firing a shot for the remaining 55 minutes. It would be in the Wolves best interest attempting to do the same for 60 minutes in game two.