Chicago and Rochester met twice in 2013-14, the first time they had faced off since 2008-09, splitting the season series with the home team claiming the win in both contests; Chicago and Rochester subsequently met in the first round of the 2014 Calder Cup Playoffs, with the Wolves claiming the five-game series 3-2.
Saturday, Nov. 15, 6 p.m.
The Blue Cross Arena
Team Record:
7-7-0-0
Last Game:
6-1 W vs. Toronto (Nov. 14)
Season Series
: 0-0-0-0
Last Meeting:
2-4 Road Loss (May 4)
Team Record:
9-3-2-0
Last Game:
3-4 L vs. Utica (Nov. 14)
Season Series
: 0-0-0-0
Last Meeting:
4-2 Home Win (May 4)
---
Storylines
After a four-season hiatus, the Wolves and Americans met last regular season for the first time since 2008-09, splitting the season series 1-1-0-0 with the home team claiming the victory in both contests; including last year, Chicago has compiled a 2-5-0-0 all-time record in Rochester.

The squads became familiar in the playoffs as they needed all five games of the Western Conference Quarterfinals to determine a winner, with Chicago edging Rochester 4-2 in the decisive game; the Wolves were subsequently swept by Toronto in the next round.

Chicago continues its nine-game circus road trip (4-2-0-0) tonight with its only stop in Rochester this season and looking to get back on track; the Wolves have only dropped consecutive games once this year (Oct. 24-25) and have not done so in regulation in 2014-15.

The Wolves suffered their first loss since Nov. 2 last night as a late goal sunk their comeback hopes in a 4-3 defeat to league-leading Utica; despite the setback, Chicago retains its spot as the third-best team in the league (behind Utica and Midwest Division foe Rockford) with 20 points in 14 games.
---
By The Numbers
0 – Times that the Wolves have lost consecutive games on the road in 2014-15; Chicago, 5-3-0-0 away from Allstate Arena this season, bounced back from their first two road defeats with wins in Grand Rapids.
45 – Percent of Wolves goals this season that have been scored in the second period, with a league-leading 22 of Chicago's 49 goals this season coming in the middle frame; the team has only been held off the board in the second period once this season.
.500 – The Wolves' points percentage this season in one-goal games, going 2-2-2-0 in the close contests; Chicago collected the sixth-most wins in the league in one-goal tilts in 2013-14, posting a 22-7-5-5 record (.692 points percentage) in that situation.
---
Follow The Action
Tonight's game begins at 6 p.m. and can be streamed on www.ahllive.com.
You can also follow @Chicago_Wolves or @ChiWolvesLive on Twitter for live in-game play-by-play.
---
Player Spotlight
#30 Jordan Binnington
Goaltender
After the Chicago Wolves four-game winning streak came to an end last night, Jordan Binnington — who is currently on a four-game streak of his own — will likely get the start between the pipes in hopes of getting coach John Anderson's team back on track to finish the road trip.
Through his last four appearances, his performance on Wednesday night against Utica — the American Hockey League's leader in points — was by far his best of the season as he saved all 30 shots he faced for his first shutout of his AHL career. Each game shows Binnington is getting more and more comfortable in the crease. During this streak of wins, he's seen more shots each game while increasing his save percentage as well.
If seeing more and more ice time is what it takes for Binnington to continue this success, it may be only a matter of time before he officially becomes the No. 1 goaltender for the Wolves.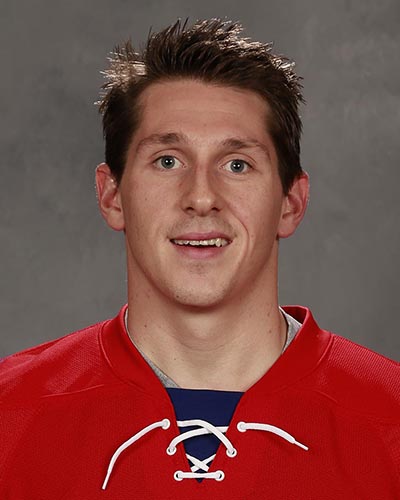 #19 Luke Adam
Left Wing
After losing five-straight games and averaging 1.6 goals per game during that span, the Rochester Americans exploded last night for six goals in a 6-1 victory over the Toronto Marlies, and Luke Adam had a big hand in that.
In the past two games, Adam has tallied two goals per game while tallying three total points in last night's big win. In the past three games, the sixth-year AHL veteran has recorded a whopping seven points.
Through 14 games this season, the Wolves have yet to lose back-to-back road games. If they want to continue that streak, shutting down Adam is definitely a key to tonight's game.