After eight straight road tilts, the Wolves play the final stop of their franchise-record-tying nine-game circus trip at the Bradley Center tonight; they are 5-3-0-0 thus far and looking to end the trek with a W.
Friday, Nov. 21, 7 p.m.
Bradley Center
Team Record:
10-3-0-0
Last Game:
2-1 W vs. Rockford (Nov. 15)
Season Series
: 2-1-0-0
Last Meeting:
4-1 Home Win (Nov. 2)
Team Record:
10-4-2-0
Last Game:
0-3 L vs. Adirondack (Nov. 18)
Season Series
: 1-1-1-0
Last Meeting:
1-4 Road Loss (Nov. 2)
---
Storylines
After eight straight road tilts, the Wolves play the final stop of their franchise-record-tying nine-game circus trip at the Bradley Center tonight; they are 5-3-0-0 thus far and looking to end the trek with a W.

Chicago faces off against a Midwest Division rival tonight for the first time in six games after starting the season with eight intra-division contests in 10 tries; the team has a 5-2-1-0 combined record this season against Grand Rapids, Lake Erie, Milwaukee, and Rockford.

The Wolves were shut out for the first time this season as they fell 3-0 to Adirondack on Tuesday night in Glens Falls; the streaking Flames captured their sixth consecutive win on the play of goaltender Joni Ortio, who thwarted all 28 shots in the effort.

With the Wolves falling 3-0 on Tuesday, JORDAN BINNINGTON suffered his first loss in net since Oct. 25, stopping 15 of 17 shots but seeing his professional-best winning streak halted at five games; in that stretch he posted a 1.40 goals-against average, .949 save percentage, and one shutout, becoming the Wolves' first rookie netminder to push a winning streak beyond four games since 2007-08, when Ondrej Pavelec strung together regular-season six-game win streaks twice and backed the Wolves to the 2008 Calder Cup.
---
By The Numbers
2 – Games this season in which the Wolves have not scored a goal in the second period, including Tuesday night; the pair of games that Chicago has been held off the board in the middle period in are tied for the team's largest margin of defeat this year (3).
.214 – The Wolves' points percentage in games this season when they trail after either the first (1-2-1-0) or second (0-3-0-0) period; the team posted a .344 percentage in the same situation last season, going 9-11-2-1 when trailing after the first and 5-18-2-0 when trailing after the second.
1 – Regular-season win needed by Chicago bench boss JOHN ANDERSON to move into a tie for fifth place on the list of the AHL's all-time winningest coaches; the 13-season Wolves veteran (nine of those in the AHL) currently has 361 AHL wins to his name and has his sights set on Terry Reardon (362) after passing Robbie Ftorek (353) earlier this season.
---
Follow The Action
Tonight's game begins at 7 p.m. and can be seen on The U-Too (channel 26.2). U-Too also can be found on XFinity's Chs. 230 (HD) and 360 (SD), RCN's Ch. 35 and WOW's Ch. 170. The game can also be streamed on www.ahllive.com.
Those away from a TV or computer can follow @Chicago_Wolves or @ChiWolvesLive on Twitter for live in-game play-by-play.
---
Player Spotlight
#15 Jeremy Welsh
Forward
Through the first eight games of the season, Welsh led the team with an average of a point per game. His linemate Rob Bordson was nipping at his heels with seven points, creating arguably the hottest if not best line for the Wolves at that time.
In the eight games since, Welsh has tallied just three assists and his line with Bordson and Sebastian Wannstrom has combined for half of their 22 points to start the season. Whether or not the past eight games being away from home had any effect on them is unknown, but the three of them together average 3.25 points per game at home and just 1.8 points per game on the road this season.
While several other Wolves have stepped up since in the scoring business, the "BWW" line has two big home games this weekend to rekindle the flame.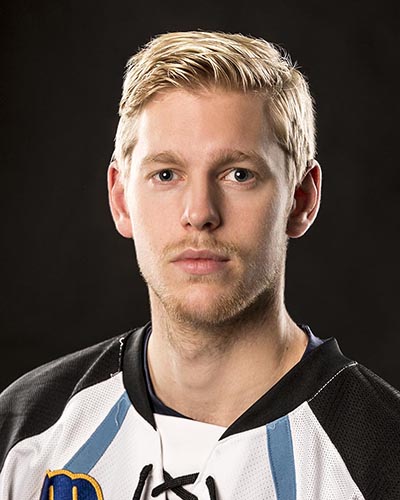 #45 Magnus Hellberg
Goaltender
Magnus Hellberg is one of — if not the — hottest goaltender in the league, winning all five of his appearances with a 0.78 goals against average, .969 save percentage and one shutout.
In the last meeting between the Admirals and Wolves, Hellberg saved 25 of 26 shots with the only goal coming on a Wolves power play with just over a minute left in the game. Chicago was successful creating traffic in front and ended up cleaning up a rebound for that lone goal.
Up until the recent shutout, the Wolves were successful in netting goals on this long road trip, averaging just under four goals per game. They'll need to find that success to end Hellberg's winning streak and finish the road trip with a 6-3 record.