The Wolves look to get their offense clicking again for a week of Midwest Division matchups, kicked off by tonight's tilt against the league's third-stingiest defense in Milwaukee.
Wednesday, Nov. 26, 7 p.m.
Bradley Center
Team Record:
11-4-0-1
Last Game:
2-1 SOL vs. Iowa (Nov. 23)
Season Series
: 3-1-0-0
Last Meeting:
3-2 Home OT Win (Nov. 21)
Team Record:
11-5-3-0
Last Game:
3-0 L vs. Rockford (Nov. 23)
Season Series
: 1-1-2-0
Last Meeting:
3-2 Road OT Loss (Nov. 21)
---
Storylines
In 2013-14 it was the Wolves that dominated the Amtrak Rivalry series, winning four of the first five games and running away with an 8-1-1-2 record over the Admirals to claim the trophy; this season the teams have swapped spots, however, as Milwaukee has claimed three of the first four tilts to leaving Chicago with a 1-1-2-0 record thus far, an identical mark as the Admirals' at this point in the series last season.

With a regulation win tonight, the Admirals will move into a tie with the Wolves for second place in the Midwest Division; Milwaukee holds three games in hand.

The Wolves were shut out twice last week (Tuesday at Adirondack and Sunday versus Rockford) and will look to get their offense clicking again for a week of Midwest Division matchups; they will have to do so against two of the stingiest defenses in the league with Rockford's 2.06 goals-against per game (T-1st) and Milwaukee's 2.16 (3rd).

The last time Chicago failed to earn at least one point in the game following being shut out was the finale of the 2012-13 season; since then they have posted a 2-0-2-0 record in games following a whitewashing.
---
By The Numbers
3 – Consecutive losses for the Wolves at the Bradley Center, with the team's last win there coming Feb. 9, 2014; goaltender MATT CLIMIE is also looking to snap his losing streak in Milwaukee, which stands at nine games (March 3, 2012, to present).
.809 – Chicago, Milwaukee, and Rockford's combined points percentage (26-5-1-2) this season when playing any team but each other, including a perfect 10-0-0-0 combined record against division-mates Grand Rapids and Lake Erie; the trio is fighting for Midwest Division supremacy while all ranking in the top six teams in the league (6th, 4th, and 1st, respectively) by points percentage.
4 – Consecutive games in which the Wolves have surrendered the opening goal, expanding to six of their last 10 tilts; the team is 4-4-2-0 when allowing the first tally and 7-1-1-0 when getting it themselves.
---
Follow The Action
Tonight's game begins at 7 p.m. and can be seen on The U-Too (channel 26.2). U-Too also can be found on XFinity's Chs. 230 (HD) and 360 (SD), RCN's Ch. 35 and WOW's Ch. 170. The game can also be streamed on www.ahllive.com.
Those away from a TV or computer can follow @Chicago_Wolves or @ChiWolvesLive on Twitter for live in-game play-by-play.
---
Player Spotlight
#24 Colin Fraser
Center
After getting off to a raring start to the season, Colin Fraser has gone cold turkey over the past few weeks. Through his first seven games, the veteran was averaging just under a point per game with three goals and three assists.
Fraser's hot start helped fuel the beast that was the Wolves to a 4-1-2 start to the season. Over his last 11 games, he has tallied just one assist and has been on a five-game pointless streak. While Fraser may not be on John Anderson's top line, his veteran leadership may be what the Wolves need to light a fire and rebound with a big victory in Milwaukee.
Fraser has been a nice piece to the puzzle this season, and a revamping on the road tonight would be just gravy.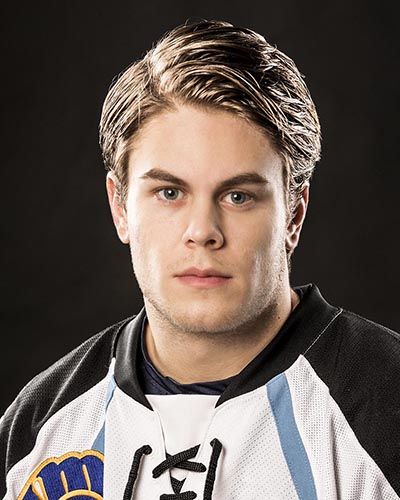 #46 Pontus Aberg
Right Wing
Between Milwaukee forward's Austin Watson, Brandon Leipsic and Victor Arvidsson, Aberg slips through the cracks like the green bean casserole of Thanksgiving dinner — it's not the first thing you think of when you're preparing the meal, but it's definitely important to remember.
While he hasn't played in all four games against the Wolves, he's made his presence felt in the two he has seen ice time, tallying a goal in each meeting. His 0.62 points per game is tied for third-best on the team. But when the Wolves play Milwaukee, it's hard to focus on a specific group of players. In their four games, 16 of the 22 Admirals that have taken the ice have tallied a point against the burgundy and gold.
Limiting the scoring chances for Milwaukee is the only way the Wolves will leave with their first win at the Bradley Center since Feb. 9 of this year.