As the Wolves prepare for this weekend's home-and-home Illinois Lottery Cup series with Rockford, they're hoping to change a few trends.
Friday, Nov. 28, 7 p.m.
MetroCentre
Team Record:
 15-4-0-1
Last Game:
 6-1 W vs. Iowa (Nov. 26)
Season Series
: 2-0-0-0
Last Meeting:
 3-0 Road Win (Nov. 23)
Team Record:
 11-6-3-0
Last Game:
 4-1 L vs. Milwaukee (Nov. 26)
Season Series
: 0-2-0-0
Last Meeting:
 3-0 Home Loss (Nov. 23)
---
Storylines
The Wolves enjoyed their traditional Thanksgiving dinner together in downtown Chicago on Thursday and they wouldn't have minded sharing a little more time away from the rink. When the Wolves dropped the 4-1 decision on Wednesday night at Milwaukee, it served as the team's 14th game — 11 of which have been on the road — in the last 27 days.

Chicago's offense might be showing effects of the team's nine-game road trip while the circus set up shop in Rosemont: the team has scored just six goals in the last five games while posting a 1-3-1-0 mark.

As the Wolves prepare for this weekend's home-and-home Illinois Lottery Cup series with Rockford, they're hoping to change a few trends. For starters, they've fallen behind 2-0 in each of their last five games. That helps to explain why they've held the lead for only 3 minutes, 48 seconds in those five games, which covers a stretch of 305 minutes and 21 seconds.

Conversely, Rockford enters this weekend with five wins in a row as well as the most points (31), the best points percentage (.775) and the finest goal differential (+24; 66-42) in the American Hockey League. Those numbers include two wins in both Illinois Lottery Cup battles.
---
By The Numbers
2 – The Wolves have lost two consecutive games to Rockford, which is the franchise's longest losing streak to their Illinois Lottery Cup rival since dropping three in a row from March 15 to April 12, 2013.
.809 – Chicago, Milwaukee, and Rockford's combined points percentage (26-5-1-2) this season when playing any team but each other, including a perfect 10-0-0-0 combined record against division-mates Grand Rapids and Lake Erie; the trio is fighting for Midwest Division supremacy while all ranking in the top nine teams in the league (9th, tied for 4th, and 1st, respectively) by points percentage.
5 – Consecutive games in which the Wolves have surrendered the opening goal, expanding to six of their last 10 tilts; the team is 4-4-2-0 when allowing the first tally and 7-1-1-0 when getting it themselves.
---
Follow The Action
Tonight's game begins at 7 p.m. and can be seen on The U-Too (channel 26.2). U-Too also can be found on XFinity's Chs. 230 (HD) and 360 (SD), RCN's Ch. 35 and WOW's Ch. 170. The game can also be streamed on www.ahllive.com.
Those away from a TV or computer can follow @Chicago_Wolves or @ChiWolvesLive on Twitter for live in-game play-by-play.
---
Player Spotlight
#12 Pat Cannone
Center
If there's been one player for the Wolves that has been relatively consistent this season, it's "Pistol" Pat.
Through 20 games, Cannone leads the team with 15 points — five goals and 10 assists — and hasn't gone more than two consecutive games without a point. During the Wolves nine-game circus road trip, the 28-year-old tallied eight points and was a catalyst to the team's success while on the road.
Cannone is currently on a two-game pointless streak, which means he is due tonight based on his performance this season. A spark by him on the line with Ty Rattie and Terry Broadhurst may be just what the doctor ordered to bounce back from their two-game skid.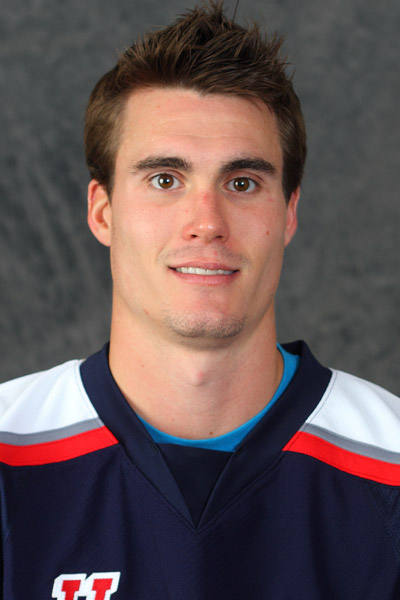 #53 Brandon Mashinter
Left Wing
While Garrett Ross had a multi-goal game against the Wolves this past Sunday, Brandon Mashinter was busy having his second multi-point game against Chicago in as many games.
In both Illinois Lottery Cup matches, he's recorded a goal and an assist. Like Milwaukee, there are several IceHogs that can lead the team in scoring on any given night. Rockford's offense hasn't been lacking as they've averaged just under four goals per game over their last five contests.
Containing the IceHogs at home isn't an easy task as they're averaging 3.6 goals per game at the MetroCentre. The Wolves will either have to find Rockford's kryptonite or turn around their scoring woes of late.