Tonight's Chicago Wolves game at Lake Erie is not being televised. To watch or listen tonight, please go to AHLLive.com. The Wolves return to The U-Too on Dec. 17 against Adirondack. Follow live play-by-play on Twitter at @ChiWolvesLive.
Friday, Dec. 5, 6:30 p.m.
Quicken Loans Arena
Team Record:
8-8-2-2
Last Game:
3-2 W vs. Chicago (Dec. 3)
Season Series
: 1-2-0-0
Last Meeting:
3-2 Home Win (Dec. 3)
Team Record:
13-7-3-0
Last Game:
2-3 L vs. Lake Erie (Dec. 3)
Season Series
: 2-1-0-0
Last Meeting:
2-3 Road Loss (Dec. 3)
---
Storylines
The Wolves will need to have a short memory as they face off against Lake Erie in a rematch tonight; Chicago has faced the same team in back-to-back contests six times so far this season and have posted a 9-2-1-0 record in those games, however are 3-2-1-0 in the second games of the series.

The Chicago Wolves could not keep the momentum of a two-game winning streak going past the 13:49 mark of the first period at Quicken Loans Arena on Wednesday as they scored two quick goals before succumbing to a Lake Erie rally; it was the team's sixth overall loss to the Monsters in 27 games and first since Jan. 14, 2012, when they fell 5-3 at Allstate Arena.

Despite spending a majority of games on the road so far this season, the Wolves are still struggling to replicate their success at Allstate Arena away from their own barn; Chicago has accumulated 15 points (7-6-1-0) in enemy territory this season and 14 (6-1-2-0) at home, but have played five fewer games in Rosemont.

While the Wolves' offensive production has been relatively steady across the board, the team is allowing an average of 1.24 more goals on the road (2.93 as compared to 1.67 at home).
---
By The Numbers
1 – Combined win for Lake Erie and Grand Rapids over the top three Midwest Division teams this season, Wednesday night's 3-2 victory over the Wolves in Cleveland; prior to the win the Monsters and Griffins had only beaten each other in intra-division competition and not any of Chicago, Rockford, or Milwaukee.
5 – Power-play goals for the Wolves against Lake Erie in 18 tries this season, a 27.8 percent success rate; it is the team's second-highest percentage against a specific opponent.
251 – Shots right wing TY RATTIE is on pace for this season, which would be the most on the team since 2006-07 (Brett Sterling, 287).
---
Follow The Action
Tonight's game begins at 6:30 p.m. and can be streamed on www.ahllive.com.
You can also follow @Chicago_Wolves or @ChiWolvesLive on Twitter for live in-game play-by-play.
---
Player Spotlight
#30 Jordan Binnington
Goaltender
After getting recalled by St. Louis last week, Binnington is scheduled to make his return between the pipes for the Wolves.
The rookie has won six of his last seven starts, posting a 1.58 goals against average and .939 save percentage with one shutout. The Wolves have been fortunate enough to be one of just three teams in the American Hockey League to have two goaltenders with at least six wins this season. While finding your go-to guy is essential, with both players playing like they are in this rotation, there's no shame in riding a hot hand from time to time.
Binnington hasn't faced the Monsters in any of their three matchups this season, and tonight may be the perfect night to unleash "Binnnasty".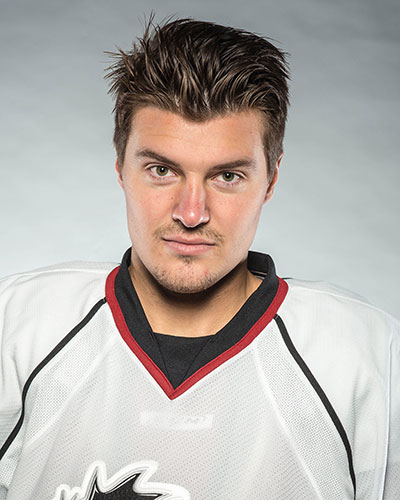 #24 Michael Schumacher
Left Wing
Schumacher has been the true Monster as of late for Lake Erie, racking up seven points in the last seven games and multi-point games in two of his last three.
He's currently tied for the lead in points and assists for Lake Erie and continues to put himself in the right place at the right time. In the Wolves matchup with the Monsters on Wednesday, Schumacher tallied an assist on the game-tying goal.
Nine different Monsters tallied a point in these two teams' recent brawl this week, so it's hard to key in on one specific player, but Schumacher definitely has the steady hand currently for Lake Erie.