The Chicago Wolves return home for the first time in December as they face the streaking Adirondack Flames, winners of four consecutive games.
Wednesday, Dec. 17, 11 a.m.
Allstate Arena
Team Record:
17-10-1-0
Last Game:
2-1 W at Iowa (Dec. 14)
Season Series
: 1-0-0-0
Last Meeting:
3-0 Home Win (Nov. 18)
Team Record:
14-9-3-0
Last Game:
6-2 W at San Antonio (Dec. 9)
Season Series
: 0-1-0-0
Last Meeting:
0-3 Road Loss (Nov. 18)
---
Storylines
The Chicago Wolves return home for the first time in December as they face the streaking Adirondack Flames, winners of four consecutive games. The Wolves broke out of an offensive slump with a 6-2 win in San Antonio on Dec. 9, erupting after a 10-game drought that saw the team garner just 16 goals while posting a 3-6-1-0 record in that stretch. The squad's troubles dated back to its last game against Adirondack, a 3-0 shutout at the hands of Joni Ortio and the Flames on Nov. 18.

Chicago should have plenty of gas in the tank for this morning's matchup as the team is coming off seven consecutive days without a game. That is the longest stretch of downtime for the team this season and comes following a jam-packed November that featured 15 games in 29 days, contests between which the longest break was two days.

Chicago has posted a 11-2-0-0 all-time record in morning games, including a 7-1-0-0 mark at Allstate Arena. The Wolves' only School-Day Game loss at home came Jan. 12, 2011, when they fell 4-2 to Texas.

The Wolves enter their sixth season of hosting an annual School-Day Game, giving thousands of Chicago-area students the opportunity to experience hockey in a fun and educational way.
---
By The Numbers
6 – Skaters who recorded multi-point outings for the Wolves in the team's 6-2 win in San Antonio on Dec. 9, tied for the most in a game this season; the first occurence was in Chicago's 7-4 win over Rochester on Nov. 15.
+9 – Power-play goal differential between the 2013-14 Wolves and 2014-15 Wolves at the 26-game marker; Chicago's power play is currently on pace for a 55.8 percent increase in production over last season, when their man-advantage ranked last in the AHL.
.778 – The Wolves' winning percentage at home this season (6-1-2-0); Chicago has played a league-low nine games in its own barn going into this morning's matchup.
---
Follow The Action
Today's game begins at 11 a.m. and can be seen on The U-Too (channel 26.2). U-Too also can be found on XFinity's Chs. 230 (HD) and 360 (SD), RCN's Ch. 35 and WOW's Ch. 170. The game can also be streamed on www.ahllive.com.
Those away from a TV or computer can follow @Chicago_Wolves or @ChiWolvesLive on Twitter for live in-game play-by-play.
---
Player Spotlight
#8 Ty Rattie
Right Wing
After going three games without tallying a point — his longest streak this season — Ty Rattie lit up the scoreboard for a goal and two assists just over a week ago in San Antonio during the Wolves offensive explosion for six goals.
Rattie extended his goal lead in the American Hockey League and gave himself a cushion during his week-long break, as he still remains atop the leaderboard with 14. He also did something that he hasn't done much of this season by assisting on goals, doubling his total in just one game. The last goal Rattie assisted on was back on Oct. 17 against Lake Erie.
Of the 31 goals the then-rookie recorded last season, three of them came on the two School-Day games for a total of five points between them. You know what they say: one is a point and two is a trend. Will there be a pattern?…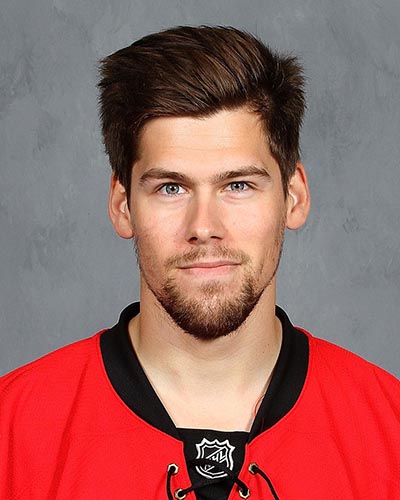 #31 Joni Ortio
Goaltender
Ortio is one of the hottest goaltenders in the American Hockey League as of late, winning 10 of his last 12 starts with a 1.84 goals against average, .937 save percentage, and two shutouts.
One of those two goose eggs came against the Wolves on Nov. 18 at Adirondack, where he saved all 28 shots in the first shutout of Chicago this season. That led to the Wolves dropping three of their next four games.
While the Wolves were struggling to put the puck in the net to end the month of November and into December, the line shifting by head coach John Anderson sparked something in their most recent game. Hopefully their week off will provide fresh legs and allow the Wolves to get back to their high-scoring ways of the past.