Tonight marks the second game in a five-game road trip for the Wolves, the team's longest of the season behind November's nine-game circus trip.
Wednesday, Jan. 21, 6 p.m.
Van Andel Arena
Team Record:
19-15-3-1
Last Game:
2-5 L vs. Hamilton (Jan. 17)
Season Series
: 2-2-1-0
Last Meeting:
5-1 Home Win (Jan. 10)
Team Record:
20-15-4-1
Last Game:
4-1 W at Rockford (Jan. 19)
Season Series
: 3-1-1-0
Last Meeting:
1-5 Road Loss (Jan. 10)
---
Storylines
After facing a stretch that saw Chicago drop six of seven tilts on the road from Nov. 18 to Dec. 7, the Wolves have posted wins in five of their last seven away from home (Dec. 9 to Jan. 19) to resuscitate their road record and bring it to 12-10-1-0 overall.

After starting out the season dominantly against the Griffins with wins in the first three games of the series, the Wolves have dropped the last two while managing just one goal in each. Chicago held Grand Rapids below 28 shots in the three wins while allowing more than 30 in the two losses.

With their 4-1 win in Rockford on Monday, the Chicago Wolves snapped a six-game losing streak against their own division. The team had been 0-4-1-1 and outscored 21-7 prior to its victory at the MetroCentre. The win put the club back at .500 against the combination of Rockford, Milwaukee, Grand Rapids, and Lake Erie (10-10-3-1) with 16 intra-divison games remaining on its season schedule.

The Wolves bolstered their forward corps on Wednesday morning prior to their tilt in Grand Rapids as they recalled left wing NATHAN LONGPRE from loan to Kalamazoo (ECHL). It should not take the forward long to acclimate to the team as he has spents parts of the last three seasons with the Wolves.
---
By The Numbers
2 – Power-play goals for the Wolves on Monday, the ninth time this season that they have posted multiple man-advantage markers in an outing. Chicago, which ranks sixth in the league at 20.1 percent conversion (33-for-164) is now just 10 power-play goals away from matching its output last season (43-for-342, 12.6 percent, 30th).
36 – Consecutive regular-season games that the Wolves have won when leading after one period. They are 10-0-0-0 in that category this season and their streak dates back to March 13, 2013, against Grand Rapids in overtime. The stretch stands at 49 games without a regulation loss (Nov. 28, 2012).
97.5 – The Wolves have succeeded on 39 of their last 40 penalty kills on the road. It's a streak that began Nov. 26 at Milwaukee and stretches over 13 road games. Chicago has killed 90 percent of its shorthanded situations on the road this season (72 of 80), third in the league.
---
Follow The Action
Tonight's game begins at 6 p.m. and can be seen on The U-Too (channel 26.2). U-Too also can be found on XFinity's Chs. 230 (HD) and 360 (SD), RCN's Ch. 35 and WOW's Ch. 170. The game can also be streamed on www.ahllive.com.
Those away from a TV or computer can follow @Chicago_Wolves or @ChiWolvesLive on Twitter for live in-game play-by-play.
---
Player Spotlight
#30 Jordan Binnington
Goaltender
After a deflating end to December and start to January, Binnington has seemed to find his groove in net for the Wolves once again.
Just as December was coming to an end, the 21-year-old netminder was riding a three-game winning streak and seemed likely he was en route to stealing the starting job after splitting time with veteran Matt Climie. The last game of the 2014 half of the season led to Binnington getting pulled just before the halfway point after letting in four goals in 23 minutes to Rockford. In his return to the crease on Jan. 10 against tonight's opponent, Grand Rapids, "Binner" allowed four goals in just 34 minutes and was once again yanked in favor of Climie.
While his return on Saturday against the IceHogs didn't result in a victory, his 19-save performance that ended in a shootout showed glimpses of the old Binnington we saw during his 6-1-0 stretch in November. Monday's big 29-save victory over the Midwest Division leaders put a stamp of authenticity on that notion. The Fresh Prince of Rosemont may have returned to his kingdom between the pipes.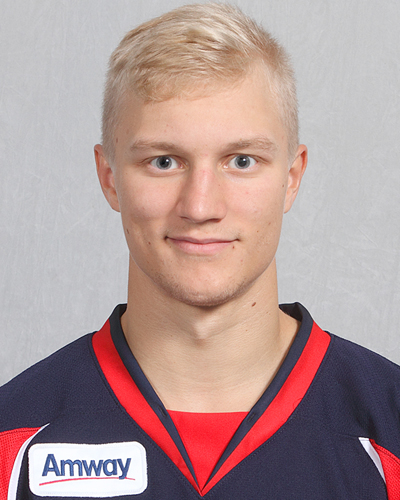 #6 Teemu Pulkkinen
Right Wing
Just as the American Hockey League's leading goal scorer tallied his first NHL goal, not 12 hours later and he finds himself back in Grand Rapids with the Wolves being the lucky draw for his return.
Pulkkinen returns to an eight-game goal streak that encompasses nine goals and four assists during that streak. Before his departure to Detroit, the 23-year-old winger was tied for second in the league in points and held sole possession of first in goals scored. While it's unknown his timetable back with Grand Rapids, it's certain he will be taking the ice tonight and through the All-Star break.
Binnington and the Wolves didn't have such good luck with the Griffins just over a week ago, and that was without Pulkkinen making an appearance. However, Chicago has still accomplished a 3-0-1 record despite Teemu's two goals and two assists in those games.