By claiming the extra point last night, the Wolves jumped from ninth to eighth place in the Western Conference with 60 points while the Rampage stayed in sixth with 63 points.
Sunday, Feb. 22, 3 p.m.
Allstate Arena
Team Record: 29-18-5-0
Last Game: 2-3 OTL vs. Chicago (Feb. 21)
2013-14 Season Series: 1-1-1-0
Last Meeting: 2-3 Road OT Loss (Feb. 21)
Team Record:
27-19-5-1
Last Game:
3-2 OTW vs. San Antonio (Feb. 21)
2013-14 Season Series
: 2-1-0-0
Last Meeting:
3-2 Home OT Win (Feb. 21)
---
Storylines
As the American Hockey League's 2014-15 season heads into the final third of the schedule, every point is crucial for a long list of Western Conference teams that includes the Chicago Wolves and San Antonio Rampage.

After a hotly-contested 60 minutes Saturday night at Allstate Arena, the Wolves and Rampage needed extra time to determine who'd get the extra point. Wolves goaltender JORDAN BINNINGTON made several clutch stops in overtime, which enabled center PAT CANNONE to go on a breakaway and deliver the game-winning goal with 0:29 left in OT.

By claiming the extra point, the Wolves jumped from ninth to eighth place in the Western Conference with 60 points while the Rampage stayed in sixth with 63 points. A mere 4 points separates San Antonio from the conference's No. 9 team (Hamilton).

The Wolves just finished the first of three consecutive weeks where they don't play any games Monday through Thursday. It's the second and final time they receive so much midweek downtime — the first being the first three weeks of the regular season in October.
---
By The Numbers
3 – The Wolves have failed to score on the power play in three consecutive games, which is a bit of a misleading statistic because Oklahoma City set a Wolves opponent record on Feb. 13 when it didn't commit any penalties. Chicago has failed to convert its last seven power plays at home over the last two games, which includes three chances on Saturday night against San Antonio.
18 – The Wolves killed off 18 consecutive opponents' power plays at Allstate Arena until San Antonio's Garrett Wilson scored in the second period Saturday night.
22 – Rookie forward YANNICK VEILLEUX turns 22 today, which makes this his golden birthday. He's the fourth and final February birthday on the roster.
---
Follow The Action
Today's game begins at 3 p.m. and can be seen on The Me-Too (channel 26.4). Me-Too also can be found on XFinity's Chs. 247, RCN's Ch. 22 and WOW's Ch. 171. The game can also be streamed on www.ahllive.com.
Those away from a TV or computer can follow @Chicago_Wolves or @ChiWolvesLive on Twitter for live in-game play-by-play.
---
Player Spotlight
#12 Pat Cannone
Center
It seems as though whenever a clutch moment is needed, "Pistol" has been the surefire guy to step up.
Saturday night's overtime game-winner was Cannone's second in the last ten days, as he also delivered the deciding blow in similar fashion against Milwaukee on Feb. 11. Both goals finished their respective games in the final 1:30 of overtime as well. His one goal and one assist last night made it his 10th multi-point game of the season — which is by far the most during a season in his career.
The chemistry between Cannone, Shane Harper and Terry Broadhurst continues to shine bright and is what will be needed down the stretch to clinch a playoff berth.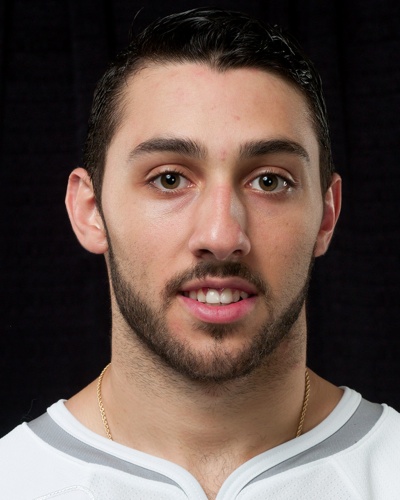 #14 Vincent Trocheck
Center
Trocheck may have been kept off the scoresheet in the first matchup last night, but that didn't mean he didn't have multiple chances.
After starting the first eight games of the season with the Rampage — totaling two goals and four assists — the 21-year-old center got the call to the big show with the Florida Panthers. In 28 appearances and his second NHL stint in as many years, Trocheck produced four goals and nine assists with a +6 plus-minus rating. Since his return to San Antonio in late January, he has four goals and seven assists in 13 games and five of them multi-point performances.
The expanded NHL experience towards the beginning of the season favored Trocheck well, and he's feeding off that on a nightly basis with teams at his mercy. The Wolves hope to keep Trocheck in check again today.