With 20 games to play, the Wolves are part of a five-team clump battling for the final two playoff spots in the Western Conference.
Sunday, March 8, 2 p.m.
Quicken Loans Arena
Team Record: 25-23-5-3
Last Game: 4-3 OTW vs. Chicago (March 6)
2013-14 Season Series: 4-2-0-0
Last Meeting: 4-3 Home OT Win (March 6)
Team Record:
27-21-6-1
Last Game:
3-4 OTL vs. Lake Erie (March 6)
2013-14 Season Series
: 2-3-1-0
Last Meeting:
3-4 Road OT Loss (March 6)
---
Storylines
With 20 games to play, the Wolves are part of a five-team clump battling for the final two playoff spots in the Western Conference.

The Chicago Wolves dropped the game Friday night at Lake Erie, but earned a point as they rallied twice in the third period to send the game to overtime. The loss marked the Wolves' fourth straight against the Monsters, who broke out of a five-game skid with the win.

The last time Chicago dropped four straight games to one team in a single season was last year against Texas when they were swept in the four-game series. Of the Wolves' all-time losses against Lake Erie, four of the nine have come during the 2014-15 campaign.

Since outscoring the Monsters 11-2 in the first two games of this season (4-0 and 7-2 wins), Chicago has been outgunned 14-7 in the last four. Despite that, three of the losses have been by just one goal.
---
By The Numbers
7 – Penalty kills the Wolves faced in Friday's game at Lake Erie (5-for-7), tied for the second-most of the season (Nov. 9 at Iowa, 6-for-7). The season high of nine penalty kills also came against the Monsters (Jan. 16) and was the most the Wolves had faced in one game since Oct. 27, 2012, against San Antonio (6-for-10).
44 – Shots launched on Monsters goaltender Sami Aittokallio in Friday's loss, tying the season-high for Chicago (Jan. 17 versus Rockford). The Wolves tied both that mark and the season high for shots in a period with 18 in the final frame (3rd period versus Charlotte on Oct. 12 and 3rd period versus Rockford on Jan. 3). All four of those tilts have come in losses, with three coming in overtime or the shootout.
6 – Of seven Wolves overtime/shootout losses this season that have come against Midwest Division opponents: Milwaukee twice, Rockford twice, Grand Rapids and Lake Erie (Friday night).
---
Follow The Action
Today's game begins at 2 p.m. and can be streamed on www.ahllive.com.
You can also follow @Chicago_Wolves or @ChiWolvesLive on Twitter for live in-game play-by-play.
---
Player Spotlight
#18 Yannick Veilleux
Defenseman
Veilleux is one of two Wolves' players on a goal-scoring streak — his second of the season.
While his first five months saw him find the back of the net just five times, he's started March on a heater and couldn't be at a better time. His goal on Friday evening helped force overtime and earned the Wolves a much-needed point as they chase a spot in the playoffs. Any contrubition from players who haven't done so to this point is what could turn the Wolves from the outside looking in to playoff hockey come May.
Hopefull Veilleux can continue this hot streak through today's game and into a crucial three-game homestand back at Allstate starting Wednesday night.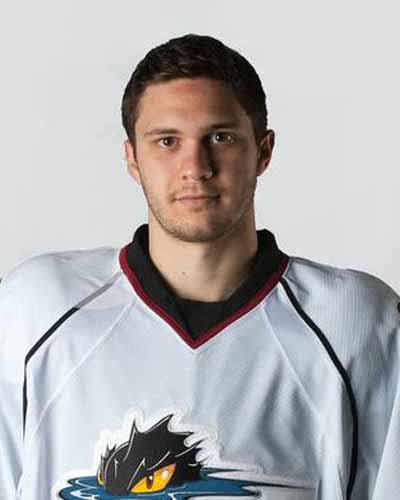 #18 Andrew Agozzino
Left Wing
Agozzino had a three-point night that could have easily been four or five, as just about all six of his shots found twine on Friday night.
He currently leads the Monsters with 16 goals and 18 assists, and has arguably been one of the most consistent players in terms of production this season, averaging just over six points a month. While one of his six shots found the back of the net, he had at least three other quality chances turned aside by Jordan Binnington.
Keeping Agozzino and the Monsters from having any multi-point performers today will be key to leave Lake Erie with three of four points.