The Chicago Wolves earned an overtime win Wednesday against the Utica Comets and will face the same team tonight to close out the season series. The Wolves are 2-0-0-0 against the Comets all-time in Rosemont and have outscored them 6-3 in those two tilts. But Chicago has not strung together more than two wins in a row at home this year, a streak currently matched thanks to wins Wednesday (UTI) and March 1 (MIL).
Saturday, March 14, 7 p.m.
Allstate Arena

Team Record:
34-19-6-1
Last Game:
1-2 OTL vs. Chicago (March 11)
2014-15 Season Series
: 1-1-1-0
Last Meeting:
1-2 (OT) Road Loss (March 11)
Team Record:
29-22-6-1
Last Game:
2-1 W (OT) vs. Utica (March 11)
2014-15 Season Series
: 2-1-0-0
Last Meeting:
2-1 (OT) Home Win (March 11)
---
Storylines
The Comets are the sixth team to complete its 2014-15 slate with the Wolves and Chicago is 1-4-0-0 in series finales this year — including 0-4-0-0 and a -12 (5-17) goal differential at home against Adirondack (1-4), San Antonio (2-5), Grand Rapids (0-5), and Rochester (2-3) — with the lone win coming in Charlotte (4-1) in early February.

The Wolves are nestled into the 9th spot in the Western Conference with 65 points in 58 games as they duke it out with Hamilton (69/62), Texas (66/58), Adirondack (64/58), Toronto (63/59), and Lake Erie (62/59) for the final two playoff seeds. Chicago faces Hamilton once, Texas twice, and Toronto twice in the final five weeks of the season.

The Wolves have taken on a new look this week as they debuted their 2015 St. Patrick's Day jerseys on March 11 and will once again don them Saturday and Sunday. The festive St. Patrick's Day jerseys are part of a longstanding Wolves tradition that began during the 1996-97 season and have continued to this day. This season's look was created by senior graphic designer Troy Mueller and features a traditional Celtic pattern and hidden plaid in the striping.
---
By The Numbers
.689 – The team's winning percentage (34-14-1-4) all-time when wearing commemorative St. Patrick's Day jerseys, a tradition that started on March 16, 1997. The team debuted the 2015 edition of the sweaters March 11 and will don them again tonight against Utica and March 15 against Rockford. The jerseys are available via auctions and raffle, with proceeds benefiting Easter Seals Metropolitan Chicago and Chicago Wolves Charities.
4 – Consecutive games in which the Wolves have launched 30+ shots (30, 44, 34, 33), the longest stretch in the regular season since March 26 to April 1, 2014. The last time they accomplished that feat in five straight games was Feb. 4-15, 2014.
3-2 – The Wolves' record this season in games following overtime wins, including an even (10-10) goal differential. Chicago is 4-2-0-0 in games following overtime losses.
---
Follow The Action
Tonight's game begins at 7 p.m. and can be seen on The U-Too (channel 26.2). U-Too also can be found on XFinity's Chs. 230 (HD) and 360 (SD), RCN's Ch. 35 and WOW's Ch. 170. The game can also be streamed on www.ahllive.com.
Those away from a TV or computer can follow @Chicago_Wolves or @ChiWolvesLive on Twitter for live in-game play-by-play.
---
Player Spotlight
#33 Matt Climie
Goaltender
Veteran netminder Matt Climie was eased back into action in late February, making two third-period relief appearances after missing more than a month with a lower-body injury. Since the calendar flipped to March, the veteran has been back on top of his game, making the last two starts for the Wolves — including Wednesday's overtime win — and allowing just two goals in 122 minutes of action. Since making his return to the crease Feb. 22, the netminder has posted a 1-1-0 record, 1.62 goals-against average and .933 save percentage over four games.
The 32-year-old's strong play in his return builds on a pre-injury hot streak, when he produced a 2-2-1 record, 1.80 goals-against average, and .942 save percentage in his seven appearances from Dec. 28 to Jan. 16. Overall the netminder has accrued a 10-10-3 record, 2.30 goals-against average (tied for 15th in the league), .913 save percentage, and two shutouts in 27 games for the Wolves this season, his fourth with the team.
The Leduc, Alberta, native is continuing his ascent up the all-time rankings for the franchise, sitting second in every category behind former goaltender and current general manager Wendell Young. His career stats with the team stand at 135 games played, nine shutouts, 3,527 saves, 5 assists, 65 wins, and 7,808 minutes.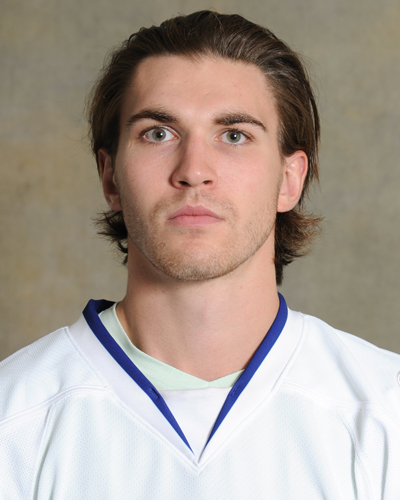 #28 Alexander Grenier
Right wing
Alexandre Grenier was not in Chicago long — he was held scoreless for the Wolves in four games in 2012-13 — but he enjoyed his return as he registered the Comets' only goal in Wednesday's contest. It appeared as though it may stand as the game winner for much of the third period before Wolves forward Terry Broadhurst tied the game with less than five minutes remaining.
While he was held off the board in his AHL debut with the Wolves, Grenier has developed into a consistent offensive threat for Utica this season. In his second full season in the league, he is the team's third-leading scorer with 31 points (12G, 19A) in 51 games. The 23-year-old enjoyed an excellent rookie campaign with the squad last season, accruing 39 points (17G, 22A) in 68 games.
Utica's top line of Grenier, Sven Baertschi, and Cal O'Reilly packs a punch, and the Wolves will need to shut them down tonight as the teams close out their season series.