The Wolves will look to snap out of their funk and tap into a well of offense as they travel to Oklahoma City for the only time this season.
Saturday, March 21, 7 p.m.
Cox Convention Center

Team Record:
37-19-4-3
Last Game:
3-4 OTL vs. San Antonio (March 20)
2014-15 Season Series
: 0-1-0-0
Last Meeting:
0-1 Road Loss (Feb. 13)
Team Record:
29-25-6-1
Last Game:
0-3 L vs. Texas (March 19)
2014-15 Season Series
: 1-0-0-0
Last Meeting:
1-0 Home Win (Feb. 13)
---
Storylines
The Wolves will look to snap out of their funk and tap into a well of offense as they travel to Oklahoma City for the only time this season. The weekend doubleheader against the Barons marks just the third road swing for the Wolves since early February, having swept Charlotte on Feb. 6-7 in a pair of three-goal wins and been swept by Lake Erie on March 6 and 8 in a pair of one-goal losses in their last two road trips.

The Chicago Wolves closed out a four-game homestand Thursday with a loss to the Texas Stars, their third straight defeat to drop the team to 3-6-1-0 in its last 10 games. The 3-0 loss marked the fourth time the squad has been blanked in its last eight contests, setting franchise records for shutouts against (7) and shutouts against at home (5).

While the pucks have not been going in, it is not for lack of chances by Chicago. As of Thursday night's games, the Wolves ranked tied for 18th in the league in team shooting percentage at 8.9 while the median stood at 9.15 percent. In the last 10 games, Chicago's shooting percentage has been significantly below-average at 5.6 percent (17 goals on 304 shots) while their opponents have been shooting slightly above average at 10.3 percent (30 goals on 292 shots).

Chicago is 5-4-0-0 all-time in road games against the Barons, splitting both of the last two season series in Oklahoma City 1-1-0-0.
---
By The Numbers
6 – Number of the Wolves' last eight goals that have come in the third period. Five of those were in the final 10 minutes and three in the final minute of play.
0.93 – The difference in the Wolves' average goals per game on the road (3.10) versus at home (2.17).
0.8 – The difference between the Wolves' offensive production before and after the New Year, posting 99 goals in 33 games from October to December (3.00 average) and 62 in 28 games from January to present (2.20 average).
---
Follow The Action
Tonight's game begins at 7:00 p.m. and can be streamed on www.ahllive.com.
You can also follow @Chicago_Wolves or @ChiWolvesLive on Twitter for live in-game play-by-play.
---
Player Spotlight
#10 Philip McRae
Center
Once known as the road team killer, Philip McRae is heading into a weekend when that scoring mentality in opposing buildings could be desperately needed by the Wolves.
In their four-game homestand, the Wolves barely averaged over a goal scored per game while being shut out twice. They've only played four road games since February but have averaged a much-better 2.75 goals scored per game in those. The Wolves have missed out on getting any points in four of their last five games, and any kind by the end of this weekend can help make a difference down the stretch of this final month of the season.
Thirteen of McRae's 15 goals this season have all come on the road, and any kind of production out of him would be at a crucial time as the Wolves sit on the outside of the playoff race looking in.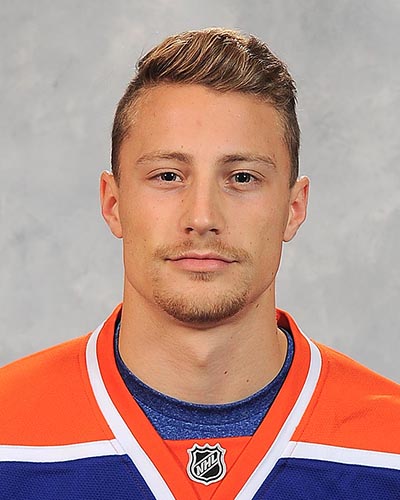 #31 Laurent Brossoit
Goaltender
While the Oklahoma City Barons have played efficiently as a team this season as they make a charge for the No. 1 seed in the Western Conference, Laurent Brossoit has stepped up to carry the load in the crease.
Of the Barons' 63 games played, Brossoit has stood between the pipes for 41 of them with a 21-15-3 record, .918 save percentage and 2.51 goals against average. His games played are amongst the most in the league.
In the two teams' only meeting of the season, Brossoit played phenomenol, saving 34 of 35 shots with the only goal of the game coming in the final two minutes of play. The 21-year-old netminder celebrates his birthday on Monday and a big win or two this weekend is all he'd like to celebrate.