The Chicago Wolves look to keep up the winning momentum as they close out a three-game road trip tonight in Milwaukee.
Friday, March 27, 7 p.m.
Bradley Center

Team Record:
32-24-5-5
Last Game:
3-4 SOL vs. San Antonio (March 25)
2014-15 Season Series
: 4-3-1-0
Last Meeting:
1-4 Road Loss (March 1)
Team Record:
31-25-6-1
Last Game:
4-1 W vs. Oklahoma City (March 22)
2014-15 Season Series
: 4-2-2-0
Last Meeting:
4-1 Home Win (March 1)
---
Storylines
The Chicago Wolves look to keep up the winning momentum as they close out a three-game road trip tonight in Milwaukee. The Wolves rebounded from a 1-3-0-0 homestand to sweep a two-game series in Oklahoma City last week and face an important divisional matchup against the Admirals. After dropping three of the first four games between them this season, Chicago has claimed the last three tilts.

The playoff picture remains fuzzy with a handful of teams fighting for the remaining playoff spots. Milwaukee (74 points/66 games) ranked No. 2 in the Western Conference as recently as Feb. 18, but have dropped to No. 7 with Hamilton (72/66), Toronto (71/64), Adirondack (70/64), Chicago (69/63), and Lake Erie (66/64) close behind.

The Wolves and Admirals are neck-and-neck in the 2014-15 Amtrak Rivalry showdown, with the Wolves holding a slim points lead at 10-9 due to one more overtime loss (4-2-2-0) than the Admirals (4-3-1-0).

With four games remaining, including tonight, it could easily go either way. But if the Wolves can pull off two regulation wins this week it will clinch the title. If they win both but only one is in regulation, they claim at least a share of the title.
---
By The Numbers
699 – Regular-season AHL games behind the bench for JOHN ANDERSON, who hits No. 700 tonight. The head coach has spent them all with the Wolves (2001-08, 2013-present), posting a 382-231-24-62 (W-L-T-OT/SOL) record since the team joined the league from the IHL.
.611 – The Wolves' points percentage (5-3-1) this season when playing three games in three days. This is Chicago's fourth of six three-in-threes. The team has not played one since Dec. 20-22 but now play three in the final four weeks of the season, starting tonight (March 27-29, April 10-12, April 17-19). They play at least one game against Milwaukee in each of those.
8 – Game-winning goals for SHANE HARPER, including Sunday's victory at Oklahoma City. This ties him for first in the league and puts him two away from the Wolves franchise record of 10, set by Mark Mancari (2011-12), Brett Sterling (2007-08), and Chris Marinucci (1998-99).
---
Follow The Action
Tonight's game begins at 7 p.m. and can be seen on WCIU The U (channel 26). The game can also be streamed on www.ahllive.com.
Those away from a TV or computer can follow @Chicago_Wolves or @ChiWolvesLive on Twitter for live in-game play-by-play.
---
Player Spotlight
#15 Jeremy Welsh
Center
After meeting the Milwaukee eight times so far this season, Jeremy Welsh leads all Chicago Wolves' players in points against the Admirals.
The centerman is averaging a point per game with five goals and three assists in those eight matchups with a +3 plus-minus rating. Those eight points make up over a fourth of his production this season, as he's currently tallied 14 goals and 16 assists to this point in the season. Until his most recent goal against Oklahoma City on March 22, the 26-year-old was on a 10-game goalless streak.
Getting the monkey off his back in his last game and his success against the Admirals this season should hopefully provide the Wolves with an edge tonight in Milwaukee.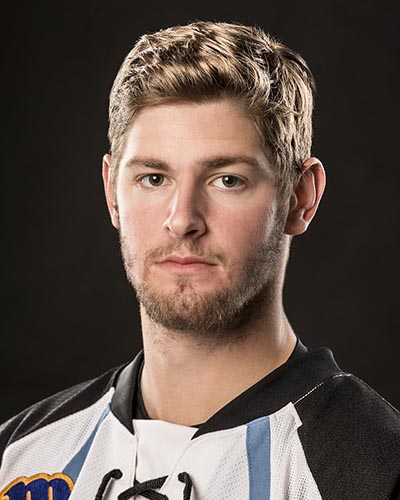 #51 Austin Watson
Center
With the Admirals' leading point scorer Viktor Arvidsson called up to Nashville, Austin Watson is now the active leader with 38 points this season.
His 23 goals are tied atop the team leaderboard with fellow centerman Colton Sissons, and also breaks his personal professional record of 22 last season. Watson tallied his 23rd on Wednesday, which also expanded his point streak to four-straight games as well as recording a tally in five of his last eight games. His eight points this month is his highest production of any month this season, and that's with three games left to play in March.
In the eight meetings this season, the 23-year-old center has three goals and an assist, but has been kept off the scoresheet in the last two matchups.