Grand Rapids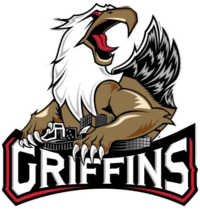 5
|
Chicago
2
Goals by Pirri and Bischoff not enough
The Chicago Wolves cut into a two-goal deficit midway through the third period, but dropped a 5-2 contest to the Grand Rapids Griffins on Wednesday night at Van Andel Arena.
Chicago (10-7-2-1) scored the first goal of the game only to fall back 3-1 by the end of the second period. The Wolves began the comeback with a goal in the third until the Griffins (11-7-0-2) responded with two third-period tallies to seal the victory.
Forward Brandon Pirri and defenseman Jake Bischoff each tallied a goal for the Wolves. Both Matt Puempel and Turner Elson scored a pair of goals for Grand Rapids, including Elson's second short-handed goal against Chicago this year.
Pirri scored the game's first goal at the 9:16 mark of the first period, tipping a shot over goaltender Harri Sateri. The Wolves cycled the puck below the Griffins goal line and over to forward Tomas Hyka in the left corner, who teed up a one-timer for defenseman Zach Whitecloud at the point that was redirected by Pirri.
Bischoff recorded his first goal of the season 11:17 into the third period, cutting the Griffins lead to 3-2 Forward Curtis McKenzie's initial shot from the slot was saved but the rebound found its way to Bischoff, who one-timed it from the right circle past Sateri's glove.
Goaltender Max Lagace (4-4-1) saved 27 of 31 shots while Sateri (7-5-0) earned the win with 33 saves.
The Wolves return to Allstate Arena on Saturday at 7 p.m. against San Antonio before hosting Texas at 4 p.m. on Sunday. Sunday's game is the Wolves' first Teddy Bear Toss.