Grand Rapids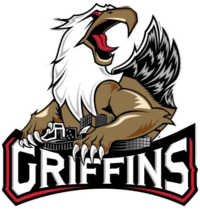 1
|
Chicago
4
Lagace rejects 34 shots while Hague and McKenzie tally on power play
The Chicago Wolves toppled the Central Division-leading Grand Rapids Griffins on Sunday afternoon, shining on special teams in the 4-1 victory at Van Andel Arena.
Rookie defenseman Nic Hague and forwards Curtis McKenzie, Gage Quinney and Daniel Carr all scored for Chicago (27-15-5-1) while netminder Max Lagace (10-6-3) saved 34 shots in the win.
The Wolves capitalized on two power plays and killed off all five of the Griffins advantages en route to the road victory, which enabled them to jump over Grand Rapids for the best winning percentage in the Central Division.
Filip Zadina scored the lone goal for Grand Rapids (28-16-3-4) and goalie Harri Sateri (17-9-2) recorded 27 saves.
After nearly 20 minutes of scoreless hockey and Chicago outshooting the Griffins 11-5, Hague scored with just two seconds remaining on a Wolves power play to give Chicago a lead at 19:42. Center T.J. Tynan cycled the puck from deep in the corner up to defenseman Dylan Coghlan at the blue line and Coghlan hit Hague with a pass near the top of the right circle before Hague one-timed it through traffic and past Sateri.
McKenzie widened the lead at the 3:32 mark of the second, scoring the second power-play goal of the game when he corralled a pass from Tynan in the low slot and shot it past Sateri while the netminder was still moving into position.
Quinney scored at 16:42 to put the Wolves up by three heading into the second intermission, skating into the slot and faking a pass before sniping a shot under Sateri's blocker.
Zadina scored for Grand Rapids at the 4:35 point of the third period, capitalizing on a strange bounce off the end boards. The Griffins used it as momentum and battled hard in the final period, but Carr put the game away with an empty-net goal with two seconds remaining for the 4-1 victory.
The Wolves continue their road trip on Wednesday and Friday in Manitoba before returning home on Sunday, Feb. 17, against the Iowa Wild.