Chicago
3
|
Grand Rapids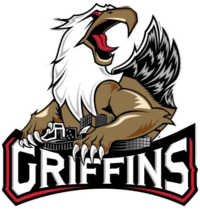 2
Kolesar's game-winning goal pulls Wolves close to first
The Chicago Wolves triumphed in a back-and-forth battle to claim a 3-2 victory over the Grand Rapids Griffins on Saturday night at Allstate Arena.
Forwards Curtis McKenzie, Brooks Macek and Keegan Kolesar scored goals for Chicago (30-17-5-1) while goaltender Max Lagace (13-7-3) saved 24 shots in the win.
AHL scoring leader Daniel Carr added two assists for the Wolves, who pulled within two percentage points of Grand Rapids (31-17-4-4) for the Central Division lead.
"I liked the way our guys battled tonight," said Wolves head coach Rocky Thompson. "I thought we battled really hard. We were disciplined. I thought 'Maxie' came up huge."
Matt Puempel and Wade Megan scored for Grand Rapids while netminder Patrik Rybar (13-8-5) recorded 20 saves.
McKenzie opened up the scoring at 4:47 on the power play when he swept the puck through the Grand Rapids crease. The pass banked off a Griffins defenseman's skate and redirected past Rybar to extend his point streak to seven games.
Puempel tied things up with a power-play goal at 12:46, beating Lagace's glove with a slapshot from the left point.
Macek regained the lead 4:36 into the second period on a 2-on-1 with forward Carr, who capitalized on a turnover in the neutral zone and skated in on Rybar while drawing the defenseman with him. Carr passed at the last second to Macek, who tapped the puck behind Rybar for his 22nd tally of the season.
Megan knotted the game up once again, tipping in a shot at 14:25 to send the teams to the locker room in a deadlock.
Kolesar broke the tie for good in the third period, scoring his second game-winner this month. Kolesar skated around the Griffins zone before taking a shot from the right circle. His initial shot was blocked, but he grabbed the rebound and roofed it over Rybar at 3:35.
The Griffins made a late push, outshooting the Wolves 11-4 in the final frame, but Lagace stood tall to preserve the 3-2 victory.
The Wolves return to Allstate Arena at 3 p.m. Sunday to face the Texas Stars. The first 1,000 kids receive a GameWorks game play gift card.