Chicago
1
|
Grand Rapids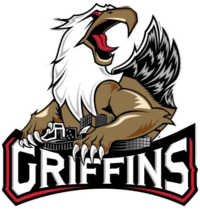 5
McGinn opens the scoring, but the Griffins pull off the road win
The Chicago Wolves opened the scoring but gave up goals at crucial points in the game, falling 5-1 in Game 1 of the Central Division Semifinals on Friday night at Allstate Arena.
Forward Tye McGinn scored and goaltender Oscar Dansk (0-1) saved 26 of 30 shots for the top-seeded Wolves (0-1).
Colin Campbell, Matt Puempel, Dominic Turgeon, Turner Elson and Dominik Shine scored for fourth-seeded Grand Rapids (1-0). Netminder Harri Sateri (1-0) recorded 29 saves.
"We actually had a really good first period," said Wolves head coach Rocky Thompson. "We came out well. I thought our second-period start was OK, too. I really am disappointed in how our team responded in the last 30 minutes. I thought we were deflated after that (Puempel) goal went in."
McGinn opened up postseason scoring for the Wolves, giving the home team a 1-0 advantage 8:28 into the first period. Center Cody Glass won an offensive-zone faceoff over to McGinn, who one-timed the puck between Sateri's pads.
Campbell tied the game at the 19:18 mark, capitalizing on traffic in front of Dansk's net to make things even at the first intermission.
Puempel scored the lone goal of the second period, converting on a Griffins power play at 10:01 when a puck bounced off the end board to him at the back door.
Turgeon widened the lead to 3-1 at the 13:10 mark in the third before Elson scored an empty-net goal at 17:06 and Shine scored at 17:39.
The Wolves host Game 2 of the best-of-five Central Division Semifinals at 7 p.m. Saturday.