Chicago
1
|
Grand Rapids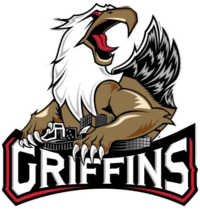 2
Noesen scores again and Lyon creates highlight reel in goal
Stefan Noesen produced his league-leading 32nd goal, but the Chicago Wolves dropped a 2-1 overtime decision to the Grand Rapids Griffins before 8,532 fans Sunday afternoon at Allstate Arena.
Goaltender Alex Lyon made 28 saves for the Wolves (34-10-5-5), who extended their point streak to 10 games and took a 14-point lead over the Manitoba Moose in the AHL's Central Division.
Lyon (14-6-3), who leads the league with a 2.13 goals-against average, delivered several highlight-reel saves — particularly during the second and third periods.
"If we don't have him, we don't get a point," said Wolves head coach Ryan Warsofsky. "He was outstanding."
For the second day in a row, Noesen came through with the game's opening goal. Captain Andrew Poturalski collected the puck along the left half-wall and flipped a backhand near Noesen in the left corner. Noesen walked toward the crease and roofed a shot over goaltender Calvin Pickard for a power-play goal at 15:29 of the first.
Grand Rapids eventually responded with a power-play goal of its own. Chase Pearson, son of former Wolves great Scott Pearson, set up just outside the crease, took a pass from Riley Barber and stuffed the puck home for a 1-1 knot at 5:20 of the third.
During overtime, Grand Rapids won the opening faceoff and the Wolves never had a chance for possession. Turner Elson wheeled down the right wing and scored 20 seconds into the extra frame to give the Griffins (25-23-5-2) their first win over the Wolves in nine games this season.
Calvin Pickard (20-14-5) posted 26 saves in the win.
The Wolves host the Milwaukee Admirals at 7 p.m. Wednesday on Craft Beer Night. To get the Craft Beer Night package, which features one game ticket, three beers and a T-shirt for one low price, visit ChicagoWolves.com or email [email protected].